So you've got post-baby fitness on your mind and you're planning to invest in a jogging stroller? Good for you! Committing to an exercise regimen after the arrival of your baby is an important part of maintaining physical and mental wellness. But with so many baby joggers on the market, how do you know how to find the right one for your particular needs? Let's take a closer look at six features to consider when choosing a jogging stroller of your own.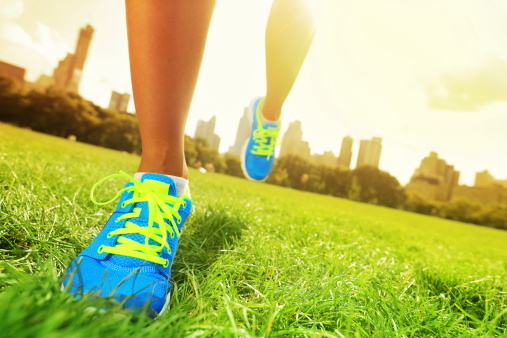 1. Front Wheel: Fixed or Swivel?
Because a smooth ride makes your daily fitness routine better for both you and baby, choosing a jogger with the right wheel can be a significant factor when it comes to stability.
Baby joggers are available with front wheels which can be either fixed in the straight-ahead position or with the option to swivel. Hard-core road runners will find the fixed wheel meets their basic needs at a lower price point.
However, if you're a trail runner and/or plan on using the stroller for more than jogging, consider the infinitely more maneuverable swivel wheel. You'll be grateful to have made this choice when you're attempting to navigate your jogger through crowded department store aisles or on busy city sidewalks.
2. Wheel Widths and Suspension Systems
Who would have thought wheels would matter so much when it came to choosing a stroller? In fact, the size of a jogging stroller's wheels matter for reasons that are both aesthetic and functional. The larger the wheels, the easier they'll roll over rough terrain while protecting your baby from stress. Pneumatic tires are particularly effective at reducing shock. Additionally, jogging strollers with shock absorber systems can turn bumps into smooth sailing.
If you have storage constraints at home and/or plan on using the stroller in tighter spaces, look for a jogger with narrow wheels. These typically have a sleek profile, fit easily through doors, and are more likely to meet storage constraints.
If you intend to use your jogging stroller for carrying lots of supplies and/or other necessities, however, a wide-wheeled stroller may make more sense, as these typically have more storage space. They can also be more accommodating of larger children.
3.Hand Brakes
Here's one we consider a deal-breaker — particularly if you live in a hilly area. Even if you've never run with a stroller before, you can imagine the stress that might come from running downhill while trying to hold onto a stroller containing your most precious possession. A hand brake keeps baby safe and lets you stay in control while maintaining both your pace and form.
4. Handle Height
If you're a single parent of average height or if you and your partner are the same height, a fixed handle height may be ideal. However, if you're planning on sharing the stroller with someone of a different height, an adjustable handle promotes both comfort and ease of use.
Remember: the more comfortable you are pushing your jogger, the more likely you are to take it out for a spin and to maintain your maternity workout momentum.
5. Foldability and Storage
The last thing you want to do is spend your time battling with an unwieldy, uncooperative stroller. While some models feel like they'd need an octopus to break down, others can be easily snapped into place with a single hand or foot tap. This can be particularly useful during motherhood when free hands are a rare and useful commodity.
In addition to considering ease of the folding process, it's also important to consider how compact a jogging stroller is in the folded position. If you live in a large house with an ample foyer or mudroom, a folded stroller that takes up minimal storage may not be your priority. However, in smaller spaces, the ability to fold your stroller into a tiny, tidy package can help preserve space and prevent clutter.
6. A Sun Canopy
In a perfect world you'd always run in the hours before 10 a.m. and after 4:00 p.m. when the sun is not at its peak. However, if you have limited time and need to squeeze in a workout, you may find yourself exercising when the sun is bearing down. In this case, a sun canopy can help protect delicate skin, reduce glare, and keep baby cool. Look for a canopy which can be adjusted to move with the sun for maximal coverage. Permanently affixed canopies, meanwhile, may risk unnecessary exposure. (In either case, never rely on the canopy to completely safeguard your child from the sun. Other protective measures, such as a hat and sunscreen, are also essential.)
All jogging strollers are not created equally. This handy guide can help you choose the stroller that will best meet your needs. If you have a favorite jogging stroller or baby jogger "must have" feature, please share your experiences in the "Comments" section below.
---
---
Leave a comment
Comments will be approved before showing up.