Twice the hugs. Twice the kisses. Twice all of the amazing firsts. Being a mama-to-be of multiples is twice the fun, but it also takes twice the planning — particularly when it comes to decorating a nursery for twins. Don't run out and buy two of everything just yet! Instead, read these tips and tricks for designing a fun and functional nursery which accommodates your two precious new family members without maxing out your space or budget.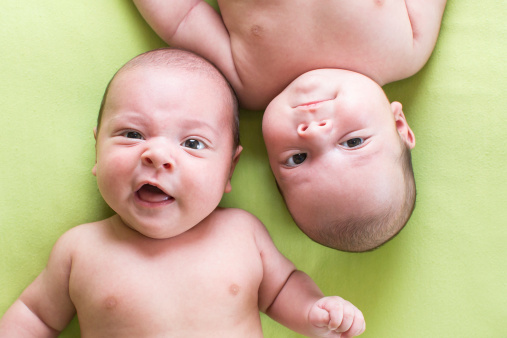 Storage Matters
Making room for two babies — and all of their stuff — can be overwhelming, but the gear, toys and clothing don't have to take over your home. Choosing the right furniture and incorporating ample storage goes a long way to controlling clutter and optimizing square footage.
Begin by looking for multi-purpose furniture. Today's innovative designs include cribs that transition to beds and dressers which double as changing tables. Choosing furniture in a more sophisticated color scheme can also help it grow with your babies.
Bins, baskets and other storage items work wonders for containing burp cloths, socks, onesies, diapers and other small baby items. Be sure to designate a space for each necessity to avoid a jumbled up mess.
One easy way to battle space constraints? Think up. When floor space is at a premium, vertical shelving offers an abundance of extra room. Tall furniture and wall-mounted shelving are simple ways to maximize space. However, be sure to adequately anchor these pieces to the wall to avoid safety hazards.
While you want the room to look pretty, it's also essential to think practically: as the room fills up with more and more baby belongings, you'll be glad to have the right storage mechanisms in place.
Twice the Style
While your twins might not be able to object to matchy-matchy style now, it won't be long before they are eager embrace their own unique sense of style. Rather than risk a redo in the short-run, prioritize individuality when designing the nursery.
Some parents choose to assign each baby a signature color. From wall palettes to gear, color-coding not only helps you keep items organized, but also gives growing kids a sense of ownership. Others choose to embrace their twins' uniqueness by decorating in a twin theme, such as Thing #1 and Thing #2 from Dr. Seuss's "The Cat in the Hat."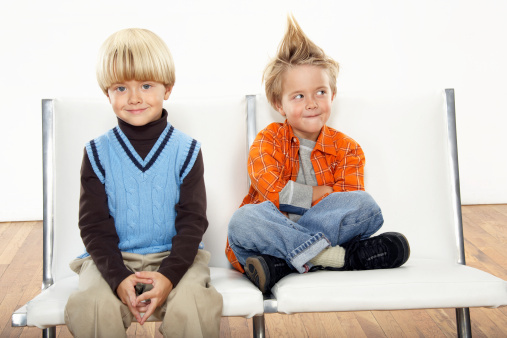 …But Not Twice the Gear
Keep in mind that decorating for twins doesn't mean automatically buying two of everything. Nursery furniture like changing tables and rockers can do double-duty for twins. Since infant clothing is small and takes up little drawer space, a single dresser is usually all that's needed.
Twins can even share a crib if space is tight. After all, they've been sharing a womb for nine months! In fact, many twin parents report that their babies sleep better together.
While you will eventually have to invest in beds and furniture for each child, waiting to make these major purchases saves money and space in the short-term while also allowing you to invest in more grown-up pieces down the road.
Decorating a nursery for twins can take a little extra planning, but the result can be twice the magic! If you're a mom of multiples, share your decorating ideas and suggestions in the comments below. And remember, whether your goal is to stay up to date on pregnancy stories and ideas or you're shopping for quality maternity exercise clothes, we're here for you. Be sure to bookmark the blog and visit often.
---
---
Leave a comment
Comments will be approved before showing up.