Most pregnant women are well aware of the innumerable benefits of keeping fit throughout pregnancy. A consistent maternity workout routine can help to keep both you and your baby happy and healthy. Nonetheless, there are certain precautions that are important to consider prior to starting a workout regiment, as well as things to be mindful of throughout your workout routine.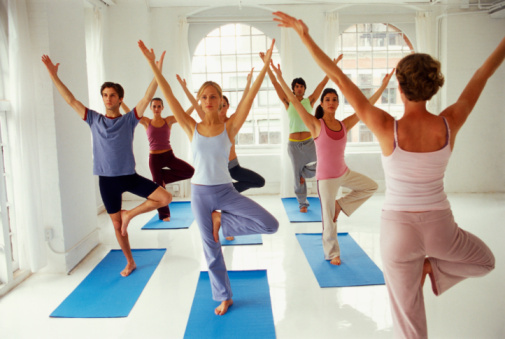 Always Consult Your Physician
Be sure to talk with your doctor before beginning any new workout routine. Discuss any medical concerns you may have such as abnormal blood pressure, vaginal bleeding, or early contractions. Should any of these warning signs arise throughout your workouts, stop and call your physician immediately. Work with your doctor to figure out an appropriate workout plan specific to your needs. Keep in mind that your workout routine will likely change as you get further along in your pregnancy, and you need to be ready to adapt to less intense workouts as your pregnancy progresses.
Stay Hydrated and Nourished
You're now eating for two, and it's important to keep this in mind while exercising. Workouts can burn a lot of calories quickly, meaning you'll need extra micronutrients and macronutrients to replenish those that are lost through exercise. Opt for nutritious, filling, and protein-dense food sources, as well as ample fruits and vegetables. Additionally, hydration is key to any workout and can help you to feel better and more energetic. Signs of dehydration include dizziness, fatigue, and irritability. Electrolytes will help to facilitate hydration more effectively, as they enable the body to retain more water. Consuming coconut water, sports drinks, or a nutritious banana can help to replenish electrolytes.
Don't Overdo It
In the early stages of pregnancy, you may feel more confident doing harder workout routines. However, by your second trimester, it's important to decrease the intensity of exercise. Avoid pushing yourself too hard, and always discontinue the workout as soon as you feel you've had enough. If you begin to feel lightheaded, short of breath, unusually tired, or have pain in your pelvis or back, your body is telling you to take a break.
Exercises you should avoid
Some exercises simply aren't safe for pregnant women, particularly those in their second or third trimester.
• Avoid exercises that require you to lie flat on your back.
• Avoid exercises that are high risk and could result in serious injury, such as biking, roller blading, or downhill skiing.
• Avoid exercises that include bouncing or sudden movements, as this could create unforeseen trauma for your unborn baby.
Basically, utilize common sense when choosing a workout routine. Exercises that contain known risks should be put on hold until the baby has been safely delivered.
Your maternity workout routine is a critical part of keeping both you and your unborn baby happy. However, it is equally critical to understand your limitations before embarking on any exercise regiment. Never hesitate to end a workout early if it's beginning to feel like too much, and reach out to your doctor whenever you have any questions or concerns. For frequent updates on the latest workout advice and other maternity news, subscribe to our newsletter.
---
---
Leave a comment
Comments will be approved before showing up.