Choosing the right baby stroller will make the early years of parenting a walk in the park. The right stroller serves as an extra hand, assisting you during newborn calming walks, fitness training sessions for two, traveling with multiples, and more. There're several different aspects you'll want to explore to ensure the stroller you choose is the right one for both safety and travel needs.
Safety First
Before exploring additional options, you'll want to choose a baby stroller with the appropriate safety features. Experts say that safe baby strollers should be solid in build, and the wheels must be on a wide base. The solid build and wide base ensures stability with the stroller. You can test the stroller's stability by pushing down lightly on the handles. When light pressure is applied to the handles of the baby stroller, it shouldn't tip backward. The stroller should also have a T-shaped belt buckle, locking front wheels, and breaks on the back as part of its safety profile.
Grow with me
When first buying a stroller, it's likely you're purchasing for a newborn, which will require a lot of extra head support. While there are strollers designed specific to newborn babies, you can also opt for a grow with me option that will save you the hassle of choosing a new baby stroller model a year down the road. A grow with me stroller will offer different sized belt buckle options along with various levels of support through a fully adjustable seat.
Three's a crowd
If you have more than one baby, you will want to choose a stroller that's equipped to handle your small crowd. With strollers designed to hold up to six children at one time (hey, it happens!) finding a dual-design stroller that offers the features you're looking for shouldn't be difficult. Experts say that parents should opt for tandem models (one child sits in front of the older), rather than side to side models, as these are easier to operate.
Baby's Day Out
How you'll be using your baby stroller is one of the most important aspects to weigh while searching for the perfect ride. Even the most high-tech stroller filled with the latest features won't be useful if it's not equipped for your everyday use. While there's a variety of additional features you can opt for when buying your baby stroller, choosing the right basic style will ensure your stroller is ready to go where you are.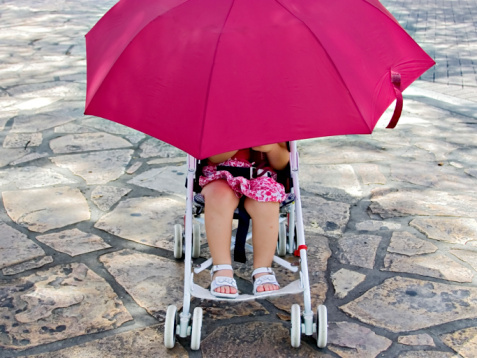 If you're always on the go, an umbrella stroller is the perfect match. These strollers are light and can fit pretty much anywhere during storage. Opt for a model that fully reclines, as it can both support your newborn's fragile head and turn into an upright chair to provide comfort for your toddler.
For moms who travel with a ton of backup supplies and who may need some extra space for their own belongings, a full-sized traditional stroller is likely the best option. A full-sized traditional offers various areas of storage space where you can keep all of your belongings while out and about with the baby.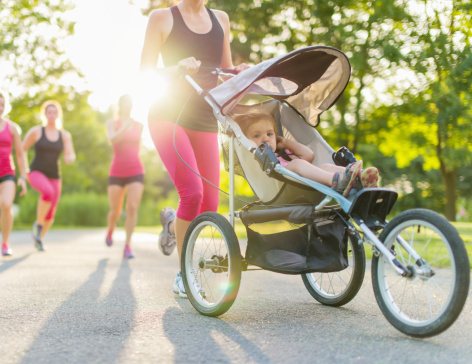 Moms who are working to stay fit can benefit from a jogging stroller. A jogging stroller is designed to keep up with you during any workout. From blazing trails to bike paths, the active mom will find the jogging stroller to be their perfect post-pregnancy companion. You can even pick out some stylish maternity workout clothes to supercharge your jogging stroller workouts, while maximizing comfort.
Conclusion
Once you've decided on the baby stroller features that match your needs, consider any additional perks that are not necessary for travel or safety, but important to you, this includes things like an extra cup holder for mom. With the various styles available on the market today, all it takes is a little research and brainstorming to find the perfect set of wheels for you and your new addition. Share this post on your social media site to help other moms find their perfect stroller!
---
---
Leave a comment
Comments will be approved before showing up.