Practical diaper pails, adorable onesies, unthinkably small baby booties, and cushy nursing pillows are just a few of the things guests and the guest of honor herself "ooh" and "ahh" over during baby showers. But why not think outside the box when it comes to shopping for a gift for your favorite fit-minded mama-to-be? Let's count down a few fabulous gifts sure to please pregnant exercise enthusiasts.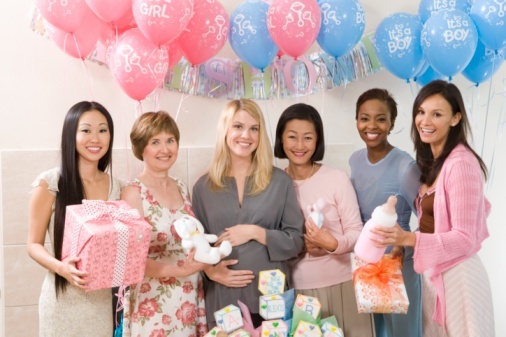 1. A Baby Jogger
Whether she's a fan of leisurely strolls around the neighborhood or a many-time marathoner, a baby jogger is a must-have. Today's baby joggers deliver a smooth ride, and can help get mom back into action with baby in tow.
Baby joggers can be expensive, so if you're not in the market to spend a lot of money, consider teaming up with friends or family members to chip in on this gift — one you know she'll use and appreciate.
If a baby jogger has already been selected from the recipient's registry, consider getting an running stroller accessory instead, such as a rain canopy, glider board for an older child, or cooler bag.
2. Wearables
From Fitbits to the iWatch, wearables continue to be a red-hot trend in the world of fitness. They're also an invaluable tool for moms-to-be. From tracking workouts to monitoring movement and heart rate, wearables add a fun and functional element to working out.
One of the best things about a wearable fitness device is that it will continue to come in handy after the baby is born by offering the motivation to keep new moms moving.
3. Maternity Activewear
The right maternity clothing can help pregnant women look great throughout pregnancy. But maternity activewear isn't just about appearance. Well-designed maternity tops, bottoms and accessories help enhance the wearer's workout, thanks to high performance details like moisture wicking tech fabrics, four-way stretch and recovery, and form-fitting side-ruching. Plus, who can resist irresistible pieces like the Running for Two Racerback Tank Top or the Body By Baby Long-Sleeve Tee?
And then there's the yoga pants. Not only are maternity workout pants the perfect addition to any pregnant woman's workout wardrobe, but they're guaranteed to become a comfortable yet stylish go-to piece for almost any occasion.
One of the best things about For Two Fitness clothing is that every piece is designed and sized to grow with women — not only throughout their pregnancies, but also during the "fourth trimester."
If you're stumped on which she'll like best, a gift certificate is the perfect opportunity to let her choose something special for herself.
4. Gift Certificate
Speaking of gift certificates, these are an easy yet effective way to please the hard-to-please. Does she love yoga? If so, why not stop into your local yoga boutique to find out about purchasing a gift certificate for a maternity or "Mommy and Me" yoga class?
If she already has a gym membership, a gift certificate to a local massage studio, spa, or nail salon offers post-workout restoration for the body and soul. After all, the recipient will very soon be the one doing the pampering, so why not ensure that she gets her fair share of being pampered in now?
Not only are workout-themed gifts good for pregnant women, they're also great for unborn babies when you factor in the many benefits — to mom and child alike — of pregnancy fitness. Be sure to check out For Two Fitness's complete line of bump-celebrating maternity activewear to find a unique gift that any fitness-forward mama-to-be is sure to love.
---
---
Leave a comment
Comments will be approved before showing up.